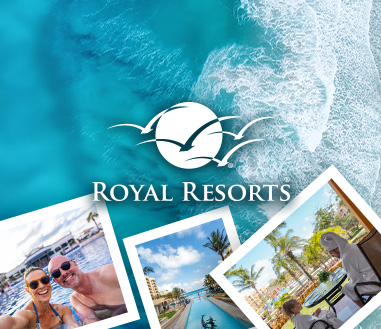 About Royal Resorts
Cancun was in its infancy when Royal Resorts was founded in 1975. A pioneer company in Mexican tourism and the international vacation ownership industry, it has been welcoming visitors since 1978. Families share precious vacation moments at its resorts in Cancun, Playa del Carmen and Puerto Morelos, enjoying a perfect combination of beach beauty, exceptional guest services and hallmark hospitality.

Ties that bind: the Royal Resorts family
Royal Resorts has a membership community of more than 60,000 families. Its members come from 51 countries and are passionate about their Cancun and Riviera Maya vacation home.
Accolades
Royal Resorts has received numerous accolades over the years, including the coveted Gold Crown Award by RCI. Other accolades recognize the work of staff in creating exceptional vacation experiences that exceed guest expectations. The company's open learning program that enables staff to continue their studies in the workplace, has also won awards. Several of the Royal Resorts and Grand Residences Riviera Cancun have been rated among Mexico's top family resorts in Tripadvisor's annual Travelers' Choice awards. Grand Residences is also recognized in Condé Nast Traveler magazine Readers' Choice awards 2021 as one of the top resorts in eastern Mexico.
MISSION & VISION
To be the leading Mexican brand in the timeshare, fractional and residential luxury markets with full resort services and amenities.
Our Mission
To create vacation ownership products and services for world travelers that give them outstanding resort vacation experiences with the highest customer satisfaction in the industry.
The Royal Resorts Vision
To be a leading brand in the vacation ownership and hospitality industries, offering our members and guests innovative, personalized and top quality products and services and an outstanding vacation experience that meets the highest standards of customer satisfaction, while always acting with integrity, transparency and social responsibility.
Our Core Values
Integrity, Trust, Ownership and Respect
Integrity
Always try to do the right thing
Honesty, truthfulness, values and principles guide our actions
We uphold the letter and spirit of the law
Ownership
We are accountable for all our actions
We treat the company's assets as our own
We behave with the company's long-term success in mind
Trust
Information sharing and transparency in dealings with members, employees and suppliers
Fair and equitable treatment of members, employees and suppliers
Strong foundation of trust due to adherence to our values and principles
Established credibility due to more than 45 years of excellence in performance
Respect
We treat customers and employees as we like to be treated
We recognize the value that each employee brings to the company
We are an equal opportunities employer and look for cultural diversity in all aspects of our business
ROYAL RESORTS PRINCIPLES
Our customers always come first
Anticipate customer needs
Immediate response to customer needs
Strive to exceed customer expectations
Always receive customers with a smile
Treat customers with courtesy and kindness
Our employees are our biggest asset
Continuous training and education for our personnel
Promotion of employees from within the company
Attractive and competitive compensation package for employees
Numerous employees with long-term careers in the company
Commitment to excellence
Prime beach locations
Highest quality in construction of resort units and amenities
An exceptional offer of top quality services
A unique offer of customer programs
Continual maintenance to keep resorts in perfect condition
Constant innovation
Continuously introduce new products and services based on customer needs, market trends and feedback
Embracing change with new technology to better serve customers
Continuous renovation of existing resorts
We care about people
A soft sales approach for potential customers
We develop close relationships with customers over time
Provide an environment that promotes long-term social relationships among customers
Be the best in what we do
Be the best in all areas of our business
Benchmark our performance internally and externally
Learn from our mistakes and act immediately
We value customer feedback
We are socially responsible
Direct involvement with the local community
Support for children's education in a local school and universities
Protection for the environment continuously adopting green standards to reduce our environmental footprint and preserve natural resources
Support for local conservation projects, recycling initiatives, the annual Mexican Caribbean turtle protection program and others
Help employees in need through the Royal Resorts Foundation
The Royal Resorts Code of Ethical Conduct
Acting with integrity and upholding our core values are central to our corporate culture and the Royal Resorts Code of Ethical Conduct covers all aspects of professional conduct. It is our guide and establishes benchmarks for standards that must be upheld by every team member. To read the Royal Resorts Code of Ethical Conduct click here.
Anyone wishing to report an action that may be in breach of the Royal Resorts Code of Ethical Conduct may do so here