Play golf during your
CANCUN VACATION
SPECIAL GOLF RATES FOR ROYAL RESORTS GUESTS AT SIX OF THE FINEST COURSES IN CANCUN & RIVIERA MAYA
If you like to play golf on vacation, Cancun and the Riviera Maya are the perfect spots for a golfing getaway with a collection of magnificent courses to try, and as a Royal Resorts guest, you are entitled to special rates at six of the area's finest golf clubs.
Royal Resorts Tournament Days
You can spend every day out on the fairway and you won't want to miss the Royal Resorts Tournament Days. In addition to offering special rates for Royal Resorts guests, our six showcase courses also organize Royal Golf tournaments on different days of the week. Don't miss them, they are a great way to pit your golf skills against fellow Royal Resorts players and make new friends. Play one course, play them all during your stay!
CHECK GOLF RATES & TOURNAMENT DETAILS NOW           
CANCUN
Rates valid from November 2016 to February 2017.
PUERTO MORELOS
Rates valid from November 2016 to February 2017.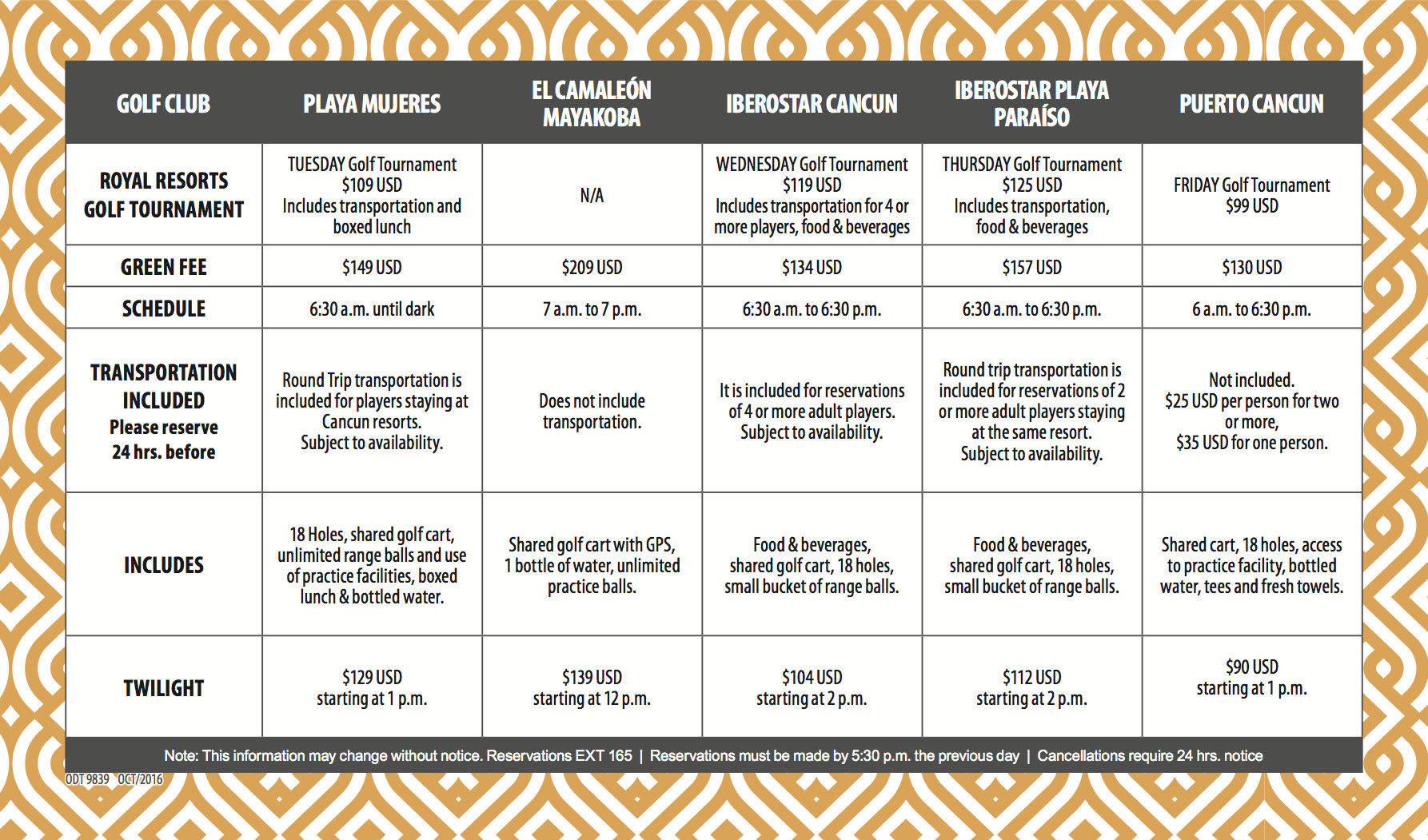 PLAYA DEL CARMEN
Rates valid from November 2016 to February 2017.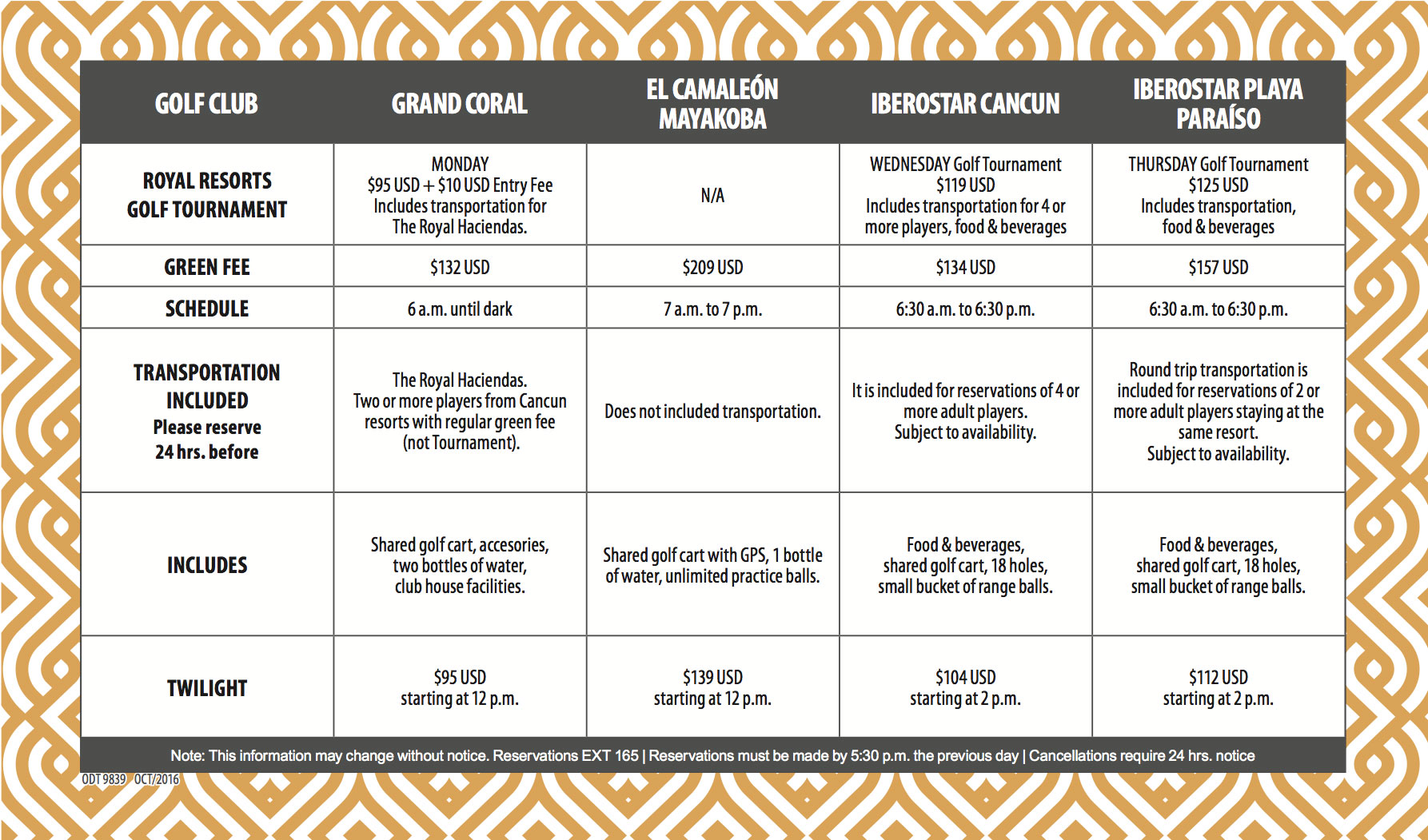 The Mexican Caribbean, Growing Golf Destination
The Mexican Caribbean is well on the way to becoming a world-class golf destination with a host of beautiful courses in Cancun, the Riviera Maya and Cozumel designed by some of the PGA's most famous players. Golf legends turned course developers in the area include Greg Norman, Jack Nicklaus, Tom Fazio, Robert Trent Jones, Tom Weiskopf, Pete Dye and Nick Price. The Riviera Maya even hosts a PGA tournament every November, the first in Mexico. Called the OHL Classic, this event now attracts many of the world's leading players
In Cancun and the Riviera Maya you'll pit your skills against challenging courses in spectacular tropical settings. Play on courses overlooking the Caribbean and surrounded by jungle, mangrove forest, lagoons and cenotes. Enjoy the warm sun and the thrill of spotting rare wildlife. Spend many a morning out on the fairway and collect your own golden golf memories.
Booking Tee Times
If you would like to book tee times or request information on the Royal Day tournaments, contact the Golf & Restaurant Reservations Center upon arrival at Royal Resorts by calling Ext. 165, or ask your Personal Concierge.
Golf Clubs available at Royal Resorts
Why go to the hassle of carrying heavy golf clubs with you and struggling through the airport when you can get them at Royal Resorts? To make it even easier for you to play golf during your stay in the Mexican Caribbean you can rent complete Callaway golf bags from The Royal Market in your resort if you don't want to bring your own gear. Clubs for left-handed players and for women are available. Single golf clubs can also be signed out at the Sports Desk.