Chiles en nogada and more, September dining at Hacienda Sisal
Traditional recipes and live music in a hacienda setting, perfect for a very Mexican evening this September to celebrate the country's Independence. Book your table at Hacienda Sisal and begin your journey of Mexican flavors.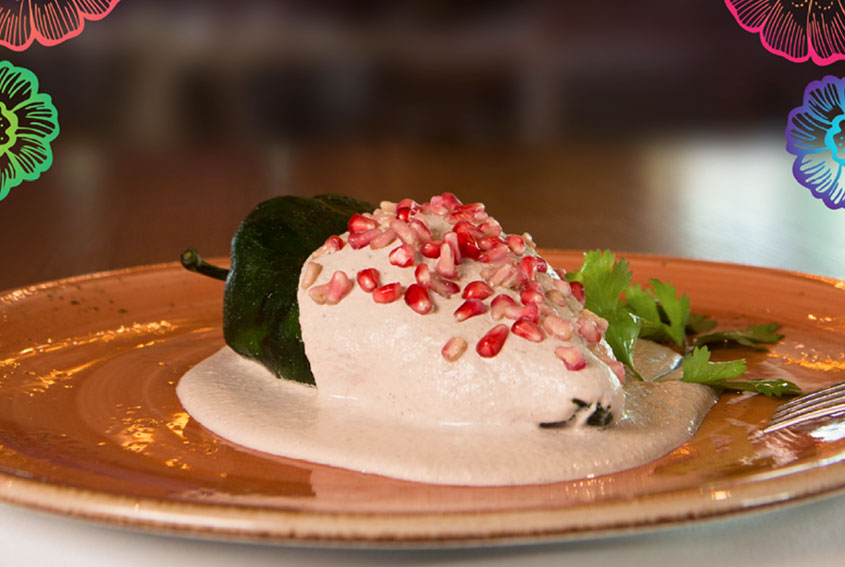 Chiles en nogada, the classic Independence dish in the patriotic colors of red, green and white, is on the menu this month. The poblano chilies are filled with a savory-sweet mixture of meat, tomato, spices, almonds, olives, raisins and fresh fruit such as apple, pear, peach and plantain. The chilies are topped with a creamy walnut sauce and then sprinkled with pomegranate seeds and parsley. This is a Mexican masterpiece, made to the traditional recipe from Puebla. It looks spectacular and tastes delicious.
In addition to chiles en nogada, you'll find many other classic recipes on the menu, including main courses such as chicken in Oaxaca-style mole sauce, shrimp in lima sauce and Tampico chicken stuffed with spinach and mozzarella, breaded with almonds and served with poblano chili sauce. Order the delicious chef's creations such as lobster Sisal and salmon flambéed in mezcal and orange sauce or specialties such as beef fillet in xcatic chili sauce pastor-style pork chop.
If you want to try some of Mexico's antojitos or traditional appetizers, the variety of options includes guacamole, queso fundido with blue corn tortillas, empanadas, sopes and a tasty trio of seafood bites. They are great for sharing with friends and family.
Try the caldo de piedra seafood broth, an ancient dish from Oaxaca prepared by fishermen in a volcanic stone mortar.
You'll find favorites such as enchiladas, fajitas and burritos and prime steaks and if you like to make your own tacos, go for the Sisal molcajete, a stone mortar piled with lobster tail, steak, pork, chicken and shrimp, nopales and cheese and drizzled with green and red salsas. Help yourself to a warm tortilla, add more spicy salsa and you are ready to go.
Order one of the signature cocktails from the Hacienda Sisal mixology menu, a Mexican wine, craft beer or a shot of tequila or mezcal. For family dining, there's even a mocktails menu for children
There's live Mexican music during the week, with a group performing on Tuesday and Thursdays and mariachis on Wednesday. Learn about tequila and mezcal at the Mexican Food & Spirit Pairing on Monday or Friday at 4:30 p.m. (reservation required and for more Mexican dishes, don't miss the Sunday Brunch served from 8 a.m. to 2 p.m.