Mouthwatering Mexican magic at Hacienda Sisal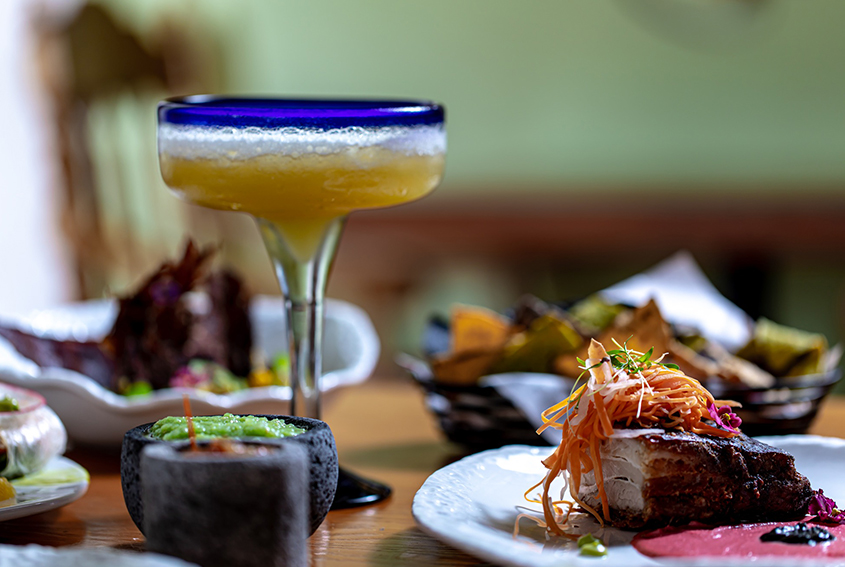 When you are in the mood for Mexican cuisine, Hacienda Sisal is the perfect spot for an evening of mouthwatering traditional recipes, mixology and music in a romantic setting.
Watch the video and get ready for some sizzling Mexican flavors on your next visit to Cancun.
Perfect for sharing
Guacamole prepared tableside, queso fundido or melted cheese served with blue corn tortillas, empanadas and sopes, order a selection of antojitos or tasty Mexican snacks for sharing. Also on the appetizer menu, Mexican style gyoza filled with roast pork pibil, crispy beef chicharron and the Itacates Trilogy, which features refried beans, Sisal-style fish, octopus in ajillo sauce and shrimp with chorizo.
Oaxaca-style mole to Sisal lobster
The main course selection ranges from Oaxaca-style mole – chicken breast stuffed with pumpkin flowers, goat cheese, plantains and cheese and topped with the sauce that is a subtle blend of chocolate, chili and spices, to carnitas, lime shrimp and salmon in mezcal sauce. The Sisal Molcajete, a mortar filled with grilled lobster, chicken, pork, skirt steak, shrimp, nopales and salsas is perfect for making tacos and there are steaks and fajitas.
Other dining highlights to try are the Sisal lobster, pork in Taxco-style pink mole sauce, chicken in relleno negro from the Yucatan, xcatic beef fillet, crab in pipian pumpkin seed sauce and pastor-style marinaded pork chop. Finally, if you enjoy enchiladas, Hacienda Sisal serves up a delicious selection with chicken in red or green sauce, mole, shrimp or vegetables.

Signature mixology
From tequila to mezcal, Mexican wines, craft beers and a signature mixology menu, find your favorite drinks at Hacienda Sisal. There's even a mocktail selection for the children.
If you are interested in learning more about the origin of tequila and mezcal, their history and production process, Hacienda Sisal offers a Food & Mexican Spirit Pairing on Monday or Friday evenings. You'll try five different tequilas and mezcals and a delicious tasting menu of five different dishes. Two seatings: 5 to 6:30 p.m. or 7 to 8:30 p.m. Reservations required.

Live Mexican music
Listen to classic Mexican favorites performed live on Tuesdays and Thursdays and enjoy a mariachi serenade on Wednesdays.
Book your table at Hacienda Sisal