Full of feeling and rich in symbolism, fragrance and color, Dia de Muertos or the Day of the Dead on November 1 and 2 is one of Mexico's most important traditions and is on the World Heritage list in the intangible culture category. Throughout the country, families are erecting altars in memory of loved ones who have passed on and who are believed to return to earth for a short time. At Royal Resorts, employees in many different departments will be keeping faith with this ancient custom, celebrating their rich heritage and sharing it with guests by participating in the Dia de Muertos Altar Competition.
On Thursday, October 31 the altars will be erected in The Royal Cancun, The Royal Sands and The Royal Islander in Cancun and at The Royal Haciendas some in the lobbies, restaurants, gardens and behind the scenes in administrative and housekeeping departments. A panel of judges will begin their tour of the altars at 9 a.m. and will listen to each team's presentation of their altar, the Mexican state it represents, the symbolism of the altar, items they have included such as flowers, photos and offerings of food and drink.
The altars must be in keeping with Mexican traditions, for example featuring flowers such as the orange marigold known as cempasuchitl, candles and incense, cut tissue paper and candy skulls, salt, water, fruit and offerings of food.
You can vote for the winning altar
We'll be publishing photos of the competing altars on the Royal Resorts Facebook page and you can vote for your favorite by giving it a like. Voting opens at 3 p.m. on Friday, November 1 and closes on Monday, November 4 at 5 p.m. The results will be published on Tuesday, November 5. Prizes will be given to the team with the winning altar and for the runner up and third place.
Where else can you see Dia de Muertos altars during your vacation?
Traditional Dia de Muertos altars are on display where ever you go in Mexico! You can see them at the Cancun Maya Museum and in Las Palapas Park in Cancun, in Playa del Carmen, at Xcaret, in Valladolid, Izamal and Merida, Yucatan.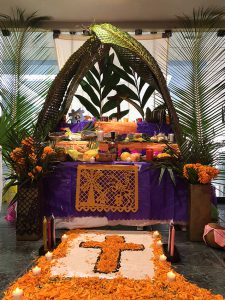 https://royalresorts.com/blog/wp-content/uploads/2021/11/royal-resorts-252w.png
0
0
Elizabeth Arteaga
https://royalresorts.com/blog/wp-content/uploads/2021/11/royal-resorts-252w.png
Elizabeth Arteaga
2019-10-30 00:00:00
2021-11-16 06:03:47
Royal Resorts Dia de Muertos Altar Competition, 2019