Culinary Experiences by Royal Resorts in May
Every month our chefs unveil a program of mouthwatering surprises for you as part of Culinary Experiences by Royal Resorts. Wherever you eat, ask your waiter about the specials on offer.
Start the day with traditional Mexican pastries and breakfast dishes. The poolside bars and grills have a different lunch special for each day of the week and try the chef's specials for dinner. Here are some of the highlights this month.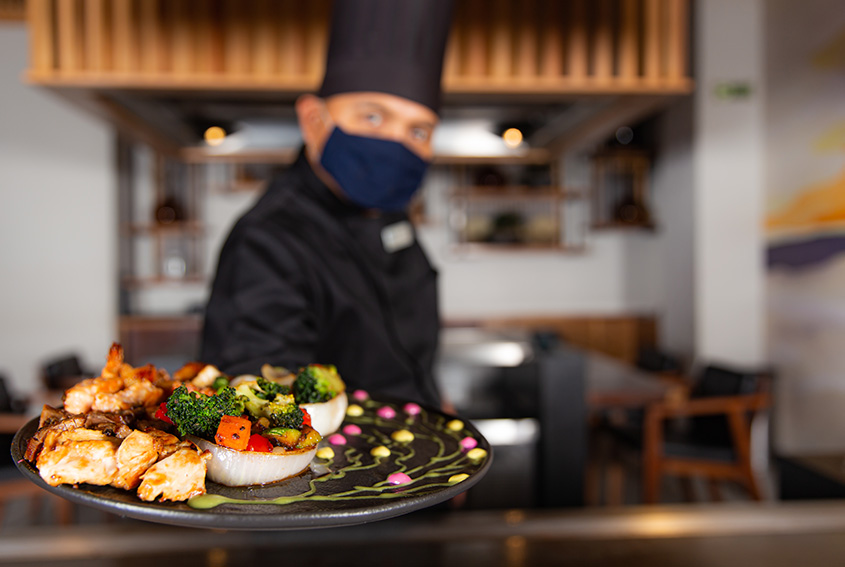 The Royal Sands
At The Royal Sands, the selection of lunch specials includes chicken tikka naan or Chinese noodles and spring rolls on Monday. On Tuesday you can tuck into Royal fried chicken and enjoy a meatball sub sandwich or chicken Caesar salad wrap on Wednesday. Thursday is taco day, there's mezcal-stye chicken on Friday, a creamy pasta salad or a beef sincronizada (a quesadilla with two tortillas) with salsa verde on Saturday and the ever-popular paella on Sunday.
La Veranda has a selection of theme nights for you to try during the week, several of them outside on the terrace and with live music.
Be sure to order one of La Veranda's special cocktails this month, they include Jarritos Locos on Monday, a refreshing citrus-tequila drink from Jalisco, pink, white and red berry Clericot on Thursday and the Pai Ai and Coco Locos on Friday.
On May 16, join the La Veranda chefs on the Tulum Terrace to celebrate World BBQ Day in Mexican style and on May 28 for Burger Day.
The Royal Islander
If you are relaxing by the pool at The Royal Islander this month, you won't want to miss these tasty lunch treats. Start with the traditional Smoke BBQ on Monday and order a shrimp burrito on Tuesday. It's time for fish and chips or shrimp and chips on Wednesday and brisket nachos on Thursday. There is a burger and sandwich festival on Friday, chicken club sandwiches on Saturday and a wings festival on Sunday.
In addition to the a la carte menu at Cayo Largo, check out the theme nights during the week. Be sure to try the Maya Martini, the restaurant's cocktail of the month and don't miss Burger Day on May 28.
The Royal Cancun
Relax and enjoy the view and some hearty lunch specials on the pool decks at The Royal Cancun. On Monday you can indulge your craving for an artisanal burger. On Tuesday there's Robatayaki, Japanese chargrilled beef, chicken and seafood and on Wednesday it's time for the Smoke BBQ. Thursday and Friday have a Mexican flavor with pork chamorro and mezcal-style grilled chicken and on Sunday, the chefs prepare paella. You can cool off with a raspado or ice cone every day and don't miss Burger Day and Potato Day on May 28 and May 30.
With spectacular bay views and the rustle of the breeze in the palm trees, La Palapa is perfect for lunch and dinner and you might want to try the theme nights too.
The Royal Haciendas, Riviera Maya
El Mercadito at Sol and Luna Grill is serving up some delicious lunch specials in addition to the a la carte menu: pulled pork sandwiches on Monday, fried fish on Tuesday, fruit cocktails and crudités on Wednesday, pastor-style pork, beef and chicken tacos on Thursday, mezcal-grilled chicken on Friday and paella on Sunday. You can also order a seafood platter every day.
Los Anafres on the terrace at La Palapa del Sol is a new Mexican lunch buffet where you can munch beef, chicken and pastor-style pork tacos and try a selection of five different hot dishes with rice, beans, guacamole, salsas and more every day from 12:30 to 3 p.m.
The Royal Haciendas will be celebrating World Burger Day on May 28 and World Potato Day on May 30 in style with plenty of mouthwatering surprises for lunch. Donut fans will love the daily Donut Corner in La Palapa del Sol for breakfast and there is a Gala chocolate night on Tuesday at La Palapa del Sol. Available at all restaurants, strawberry cheesecake is the ice cream flavor of the month from Hola Bola, our very own brand of ice cream made on site and also stocked by the Royal Market stores.
Try the chef's specials at our signature restaurants
Moving on to dinner at our signature restaurants, be sure to ask your waiter about the May chef's specials at Hacienda Sisal next to The Royal Sands, Captain's Cove on the shores of the lagoon, El Conquistador at The Royal Islander and La Trattoria at The Royal Cancun. At The Royal Haciendas, Los Murales and Kinoko have their own showstopper chef's specials.
Book your table for the Hacienda Sisal Tequila & Mezcal Pairing on Monday or Friday and the 37 Years of El Conquistador Special Dinner on Friday. Plan an evening at Captain's Cove where you can choose your favorite seafood dishes from the menu or order the monthly specials. Remember that our lagoonside restaurant also has a Steak Night with live music on Monday, live music on Wednesday with a seafood platter special, Lobster Night with live saxophone music on Friday and Prime Rib night on Saturday.
For Mother's Day on May 10, Los Murales and Kinoko are offering a set menu and other restaurants also have dinner specials or buffets.
Information is subject to change