Magical Mexican Caribbean travel experiences for 2022
With the dawn of the new year, you may already be dreaming about your next Mexican Caribbean trip. Relaxing on the beach or poolside at Royal Resorts will be top of your list but when you feel like exploring, a world of incredible travel experiences is right on the doorstep. Spend the day at the Riviera Maya's famous nature parks, go island hopping, dive into jungle cenotes and discover the history of the Yucatan. Here are some tour ideas to get you started.
Dive deep
Come face to face with the colorful creatures of the coral reef on a snorkeling or scuba trip along the Mesoamerican Reef. The world's second longest reef system runs south along the Mexican Caribbean coast from Contoy to Xcalak and continues into neighboring Belize.
From Cancun, Isla Mujeres and Puerto Morelos to Cozumel, Akumal, Mahahual and Chinchorro atoll off the coast of southern Quintana Roo, there are spectacular dive sites teeming with marine life for all levels of expertise. Crystal-clear inlets or caletas such as Xel-Ha, Yalku and Chankanaab on Cozumel are a snorkelers' paradise.
If you are an avid snorkeler but have never tried scuba diving, may 2022 be the year that you decide to take a PADI resort course and immerse yourself in the spectacular coral world.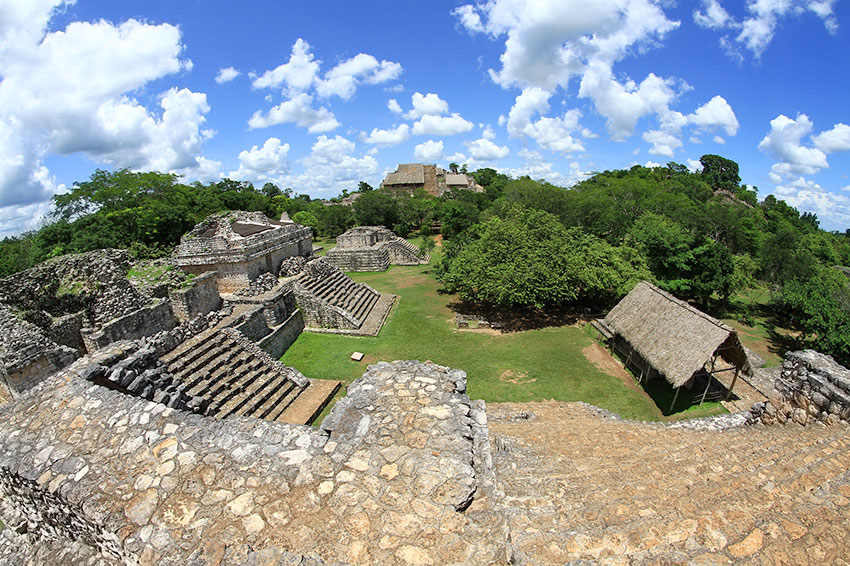 Ancient times
A visit to one of the ancient Maya cities that pepper the Yucatán landscape is an excellent way to channel energy, renew your ties with nature and learn about this amazing Mesoamerican civilization. Whether you revisit Chichen Itza or Tulum or explore further afield to Uxmal, Ek Balam or even Kohunlich in southern Quintana Roo, you'll marvel at the stucco carvings on palace walls and the genius of the long-lost architects who aligned their temples and pyramids so perfectly as to capture the rays of the sun and moon or the dance of the planets across the night sky during the year.

In search of wildlife
A trip to one of the region's biosphere reserves, a winter birdwatching walk at dawn or a summer swim with the gentle giants of the deep, the whale sharks, there are amazing wildlife encounters in the Yucatan all year round.
Go in search of flamingos, herons and spoonbills in Rio Lagartos, take a boat trip through the wetlands to look for the elusive kuka or boat-billed heron and manatees in Sian Ka'an or watch families of spider monkeys moving through the jungle canopy in the Punta Laguna community reserve near Coba. Nature lovers may even want to combine wildlife watching with Maya history on a longer trip to southern Quintana Roo and Calakmul Biosphere Reserve in Campeche, the kingdom of the jaguar.

All roads lead to Merida
This month Merida celebrates the 480th anniversary of its founding by Spanish conquistador Francisco de Montejo. Full of history and culture, the capital of the Yucatan is one of the world's most popular small cities and is well worth a visit.
Explore the historic city center, the second largest in Mexico, comprising the main square dominated by the Cathedral and the surrounding barrios or neighborhoods. Stroll along Calle 60, spending time in Plaza Santa Lucia and going as far as Paseo de Montejo, the leafy boulevard lined with grand old mansions from the age of green gold, the henequen boom that brought prosperity to the city in the late 19th and early 20th centuries. Several of these homes are now open to the public and filled with antique furniture, Baccarat crystal, Limoges china and other treasures shipped from Europe by the original owners.
From folk dancing and concerts to video mapping, theater and a Mexican show, there are cultural events during the week. The city also has a growing collection of art galleries and museums to visit. Shop for crafts, art, hammocks, Panama hats, jewelry and Mexican clothing. Dine on Yucatecan cuisine, Mexican dishes and fresh seafood from the Gulf of Mexico, only 20 minutes away. There are Italian, Spanish, International and Asian restaurants too and sweet treats ranging from gelato and tropical fruit sorbet to marquesitas, a waffle-like cone with a sweet or savory filling that is a Yucatecan favorite.
Enjoy an evening in an open-air bar on Paseo Montejo or one of the squares, listen to live music, people watch and soak up the ambiance.
Merida is extraordinary and if you would like to explore the surrounding area, the city is close to archaeological sites, historic towns, haciendas, Maya communities, cenotes and caves and is only a short drive from Gulf coast beaches.
From January 5 to 23, the city plays host to the MeridaFest, with a lineup of concerts and dance, theater productions, movies, exhibitions and more. www.merida.gob.mx/meridafest.
Events are limited capacity as a precaution, and some will also be streamed online. Tickets are available online at tusboletos.mx
Book your tours with Thomas More Travel
Thomas More Travel is your contact for more tour recommendations and for booking family days at local parks, water sports, catamaran cruises, snorkeling, diving, fishing and more.