Snorkeling Face to Face Encounters
Crystal-clear waters, the beauty of the Mesoamerican Reef, the second longest in the world, and an ever-changing parade of colorful marine creatures of all shapes and sizes. Go snorkeling on your next vacation, it's easy, fun for all the family and addictive. Try it once and you'll be ready to plan your next snorkeling adventure! There are plenty of shallow water reefs, sheltered bays and inlets in the Mexican Caribbean for face-to-face encounters with shimmering fish.
Where to start exploring the Mesoamerican Reef? Protected by a marine reserve, the chain of shallow water reefs in the bay between Isla Mujeres and Cancun and south to Punta Nizuc, is an excellent place to begin and you can be back in your resort in time for lunch. Trips are available to the reefs off Punta Cancun and Punta Nizuc in Cancun and El Farito and Manchones Reef approaching Isla Mujeres.
The Cancun-Isla Mujeres National Marine Park has another attraction to offer snorkelers, the Underwater Sculpture Museum (MUSA). More than 400 statues, most by British sculptor Jason deCaires-Taylor, are submerged in several "galleries" in the park, including Punta Nizuc and Manchones Reef. Now covered with tiny growing corals and sponges, they are becoming a habitat for marine creatures such as lobsters and fish.
South of Cancun, and protected by a national marine park, the Puerto Morelos reefs are some of the most beautiful and pristine in the area. They are home to species such as angelfish, trunkfish, snappers and octopus.
You can take the ferry from Playa del Carmen to the island of Cozumel, one of the world's top dive destinations with a chain of majestic coral reefs off the southern coast and more than 300 fish species. There are shallow water reefs such as Chancanaab that are ideal for snorkeling too.
In the Riviera Maya, Akumal is a popular spot for snorkeling and diving. Marine life is varied and abundant, even in the shallows and along the reefs at the mouth of the bay. Purple and yellow Royal grammas, spotted drums and damselfish dart through the corals and parrotfish and eagle rays are frequently observed. The greatest thrill of all, however, is to spot a green or loggerhead turtle grazing on sea grass in the bay. Akumal means "place of the turtles" in Maya.
A short drive to the north of Akumal following the coast road is an inlet or caleta called Yalku frequented by a variety of colorful fish from the offshore reef. Look out for sergeant majors, parrot and butterfly fish, blue tangs and French grunts.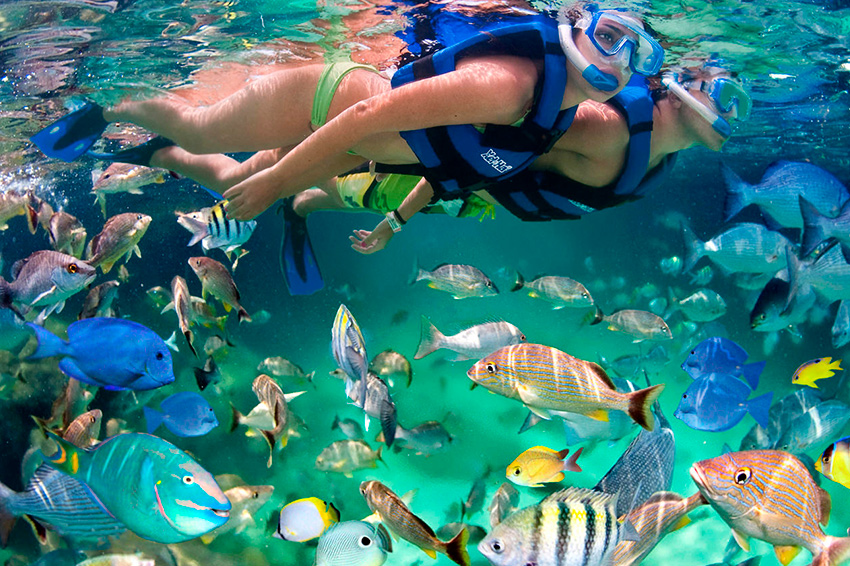 Always a good place for a family outing, Xel-Ha is hailed by locals as one of the world's largest natural aquariums. It is an enormous inlet of crystalline waters fed by underground rivers flowing through the surrounding mangroves and forest.
Rainbow-colored fish from nearby reefs feed and breed in the inlet and as soon as they venture into the water, swimmers will see sergeant majors, blue chromis and one of the park's emblems, the solitary parrotfish. Snorkel over to the rocks and further into the lagoons and you'll see even more marine life.
What are you waiting for, put your mask on and dive into the crystal-clear water! Here are a few of the marine creatures you may catch a glimpse of.

Queen angelfish
Holocanthus ciliaris
Truly regal, angelfish glide along the reef in pairs and are said to mate for life. Juvenile queen angelfish are yellow and then turn blue as they reach maturity. How to tell them apart from the blue angelfish, which also inhabits the area? Look for the dark blue spot resembling a crown on the head and the completely yellow tail. You'll also see French Angelfish and Gray Angelfish on local reefs.

Porkfish
Anisotremus virginicus
Recognizable for its yellow body and black stripes, Porkfish congregate in schools around rocks in the lagoon and in the shade along the shoreline. They make a grunting noise by rubbing their teeth together. Juvenile fish are "cleaners," picking parasites from the scales of other species.

Sergeant Major
Abudefduf saxatilis
A member of the damselfish family, this is one of the most common fish you'll see in the Mexican Caribbean. They seem to be just as curious about snorkelers as we are about them!
The name "sergeant major" is an allusion to its five black stripes, like military insignia, and to the fact that the male is very territorial when guarding its nest. It feeds on algae and shrimp larvae.

Cocoa damselfish
Stegastes variabilis
This colorful little fish is fiercely territorial and will chase larger fish away from the nest where it lays its eggs.

Parrotfish
Scarus viride
Often seen nibbling corals and algae with their beak-like jaws (you can hear them too). There are several colorful species in the Mexican Caribbean, and the fact that they also change colors as they age makes identification a challenge. Parrotfish play an important role in keeping algae cover down and over time, the coral particles they grind forms the white sand the area is so famous for.

Scrawled cowfish
Lactophyrs tricornis
Also known as the trunkfish, this strange little creature owes its name to two protruding spines above the eyes that resemble cow horns. It can usually be spotted in sea grass beds where it feeds on algae, tunicate worms and hermit crabs.

Squirrelfish
Holocentrus adscensionis
This small and timid salmon pink fish with protruding eyes and spines hides in crevices or under ledges on the reef during the day and ventures out at night to hunt for crabs and crustaceans.

Porcupine fish
Diodon holocanthus
This fish hides on the reef during the day and hunts for crabs, sea urchins and sea snails at night. Covered in spines, it swells like a balloon by taking in water and changes color when it feels threatened, hence its other names: balloon or puffer fish.

Blue tang
Acanthurus coeruleus
Often seen in large numbers swimming over the reef crest or grazing on algae, this fish is a deep blue shade when adult and yellow and paler blue when juvenile. It has a scalpel-like spine at the base of its tail, hence its other name of surgeonfish.

Spotted eagle ray
Aetobatus narinari
Watching groups of spotted eagle rays fly through the water is an incredible sight and you may even see them leap from the water. Southern stingrays are also common in the area and emerge from their hiding places in the sand to hunt for food.
Go Snorkeling with Thomas More Travel
Thomas More Travel offers a variety of snorkeling and scuba trips to reefs in the Cancun-Isla Mujeres-Punta Nizuc National Park, Puerto Morelos, Cozumel, Akumal and dive sites all along the Mesoamerican Reef.
Individual fish photos courtesy of Dive Balam