The Royal Resorts Foundation is always looking for ways to help those in need, bring change to communities and to protect the planet. Its causes include study scholarships for children living in poverty, cancer screening and medical treatment, funding physiotherapy for children with physical and neurological challenges, emergency relief for employees, help for the aged, and conservation of the Mayan jungle and the area's underground rivers.
By the end of 2016, the Royal Resorts Foundation had raised nearly USD$300,000 for its community and conservation causes through the Dollar a Stay campaign at the resorts, additional donations by members and employees, fundraising events organized by staff, the sale of recyclable trash and more. Here's a look at the Royal Resorts Foundation's causes.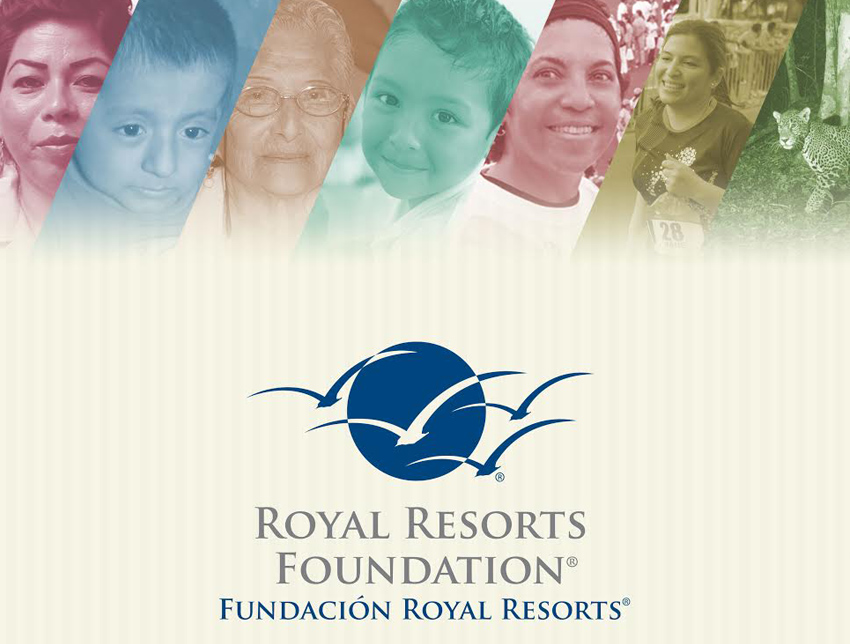 Keep on Running for a Good Cause, Second Royal Resorts Foundation Race, February 19, 2017
We are gearing up for the Second Royal Resorts Foundation Race on February 19, 2017 and we invite you to join us in supporting another worthy cause. This time, the Royal Resorts Foundation has partnered with Pro Niños Excepcionales A.C., a Cancun NGO that supports children with physical, neurological and mental challenges. We will be helping a man who has devoted his life to caring for sick children but now needs a helping hand himself, Maclovio Tun
At 74 years old, Maclovio is the sole breadwinner for his family, wife Carmen who is paralyzed and their son Reyes who has severe cerebral palsy. Their derelict house has a leaking roof, no door and no sanitation facilities and is unfit for them to live in. Our goal is to renovate and extend it, adding a bathroom, bedroom, ramps and other aids for easy access, making it a safe, healthy and comfortable space for them.
Sign up for the Second Royal Resorts Foundation Race and help renovate Maclovio's home. Take part in the 10, five or three-kilometer race or a three-kilometer walk, there's a Fun Run for children too.
Sign up today by emailing contact@royalresortsfoundation.org
Invite your friends and family to take part too! The closing date for registration is February 11.
Race details
The race takes place on February 19 at 7 a.m. Starting point: Captain's Cove Restaurant to Westin Regina and back again.
Race Fee is $250 pesos per adult and $150 pesos per child and includes a souvenir t-shirt and finalist's medal, race number, chip, water and an isotonic drink at the finish line
3, 5 or 10 kilometers
Age categories for men and women
Free (15-39 years)   Master (40-49 years)           Veteran (50 and over)
Prizes will be given to the first three places in each category in the 5 and 10 km races for men and women. The first three Royal Resorts employees to cross the finish in the 5 and 10-kilometer races for men and women will also receive prizes.
Children's Fun Run
Bring the kids! There is a race for them too!
Children aged 4 to 7 years
500 meters
Children aged 8 to 12 years
1 kilometer
If you are not going to be in Cancun in February you can still support the cause by making a donation to the Royal Resorts Foundation online at www.royalresortsfoundation.org or during your stay at Royal Resorts.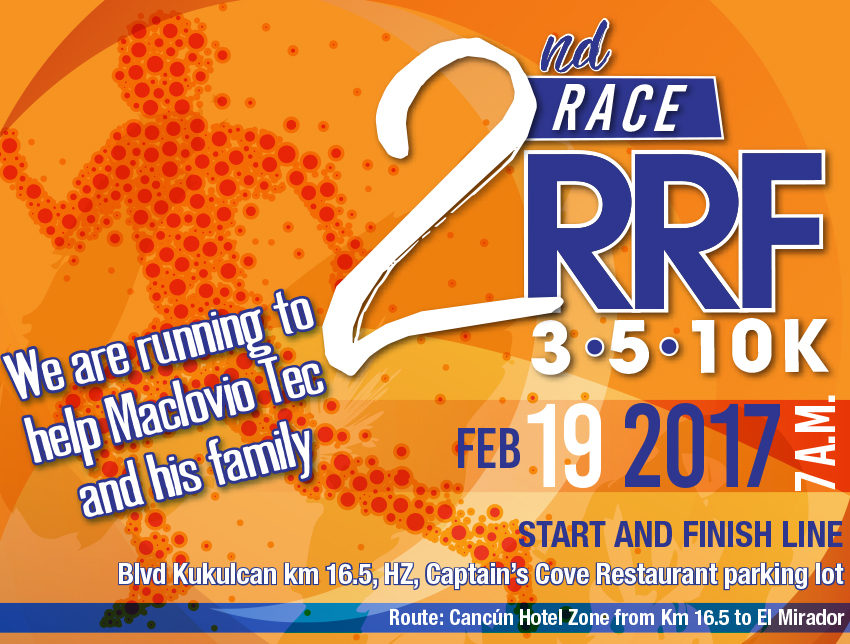 Building a Home for Dani
In February 2016, our First Royal Resorts Foundation Race, organized in partnership with Erase Una Vez un Hogar A.C. (Once Upon a Time a Home), helped raise money to build a home for Dani, a little boy from the village of Leona Vicario with brittle bone syndrome. Dani and his family are now settled comfortably in their new house, which is equipped with foam floors, ramps and other aids to meet his needs.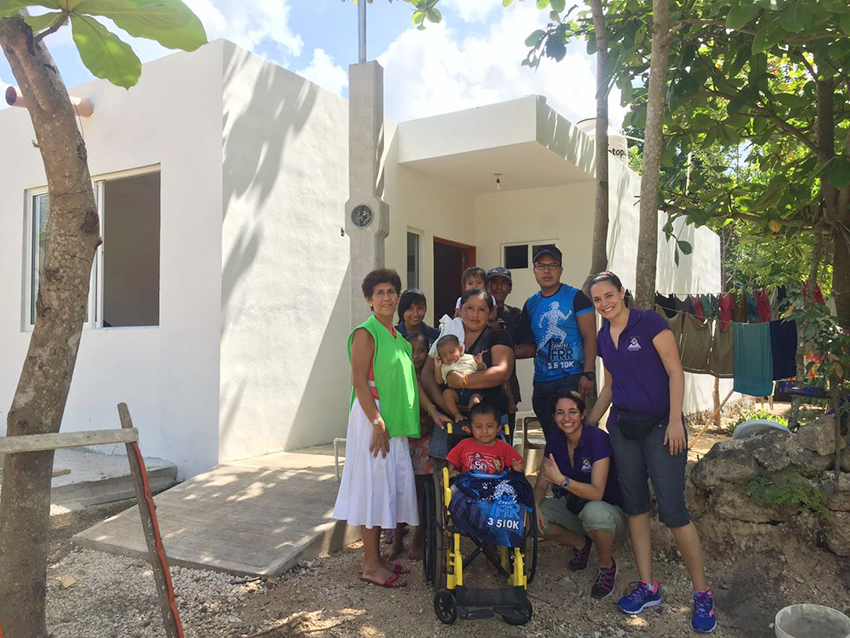 Therapy for Physically Challenged Children at the Cancun CRIT Clinic
In November 2016, Royal Resorts Foundation made a donation to the CRIT Rehabilitation Center in Cancun (Centro de Rehabilitacion e Inclusion Infantil Teleton) to cover the costs of physiotherapy for six children with motor, bone and neuromuscular diseases.
The CRIT Center is run by a Mexican charity called Fundacion Teleton, which has 23 CRIT Centers all over the country and a Children's Cancer Hospital, and attends 294,172 children.
CRIT Centers provide diagnosis, physiotherapy, multisensory stimulation, occupational therapy and care for children with mobility challenges, cerebral palsy, autism, cancer and other illnesses. Dedicated teams of medical staff and volunteers help children from low-income households, providing access to treatment that will improve their quality of life. Counseling, health and hygiene seminars are also available for the parents of special needs children and for those with terminally ill children.
As a result of the therapy they receive at the CRIT, some children become stronger and more independent, taking their first steps, learning to swim, dress themselves and move around more. Others begin to express themselves through art or practice their language skills.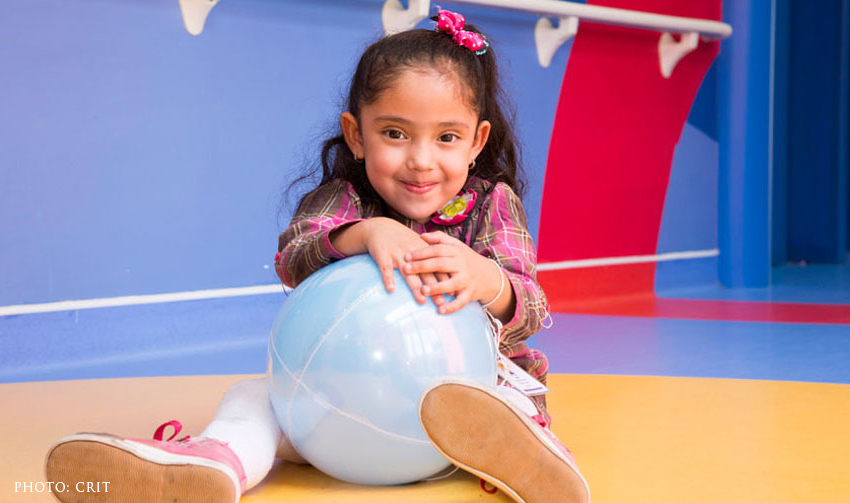 Helping Women get Vital Cancer Screening
In 2016, Royal Resorts Foundation donations funded vital breast cancer screening, mammograms, ultrasounds or treatment for 693 women on a low income.
The Foundation's partner for this cause is Grupo Desafio de Quintana Roo, A.C. Founded in 1999 by a group of women who have fought their own battle with the disease, the Cancun-based NGO started life as a support network for breast cancer patients. Its mission is now to help all those living with the disease, regardless of sex, age or type of cancer.
In addition to helping women from the poorest sectors of society with cancer screening and treatments, Grupo Desafio seeks to raise cancer awareness by giving seminars on the disease and the importance of early detection in local communities. It also offers self-help and counseling sessions for patients and their families.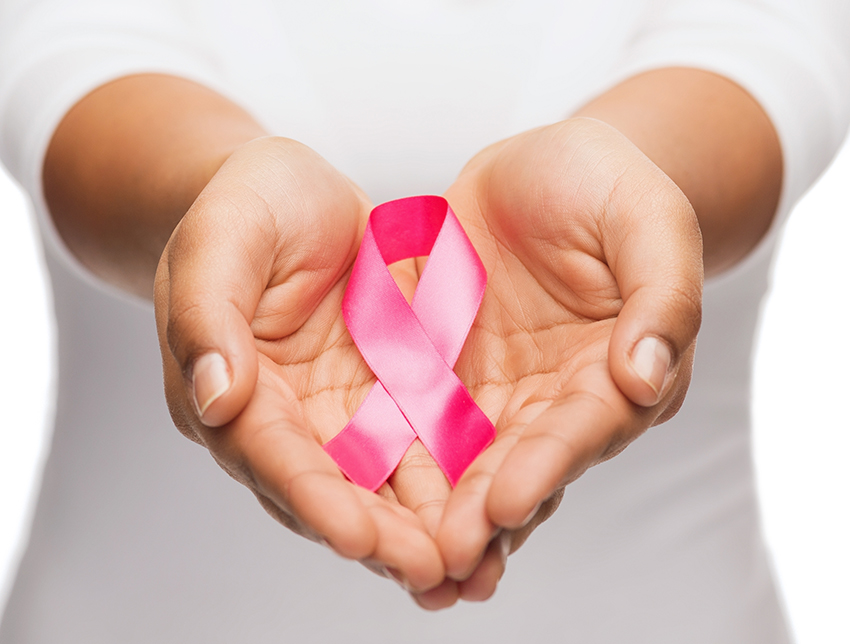 Employee Emergency Relief Fund
The Royal Resorts Foundation gives emergency aid to staff coping with grave illnesses such as cancer, major surgery or accidents in the family and to care for the terminally ill. In 2016, it helped seven employees with health problems, including treatment for scoliosis, eye surgery, bladder surgery in a case of spina bifida, epilepsy medication, speech therapy for a child with Down's syndrome, hearing aids and assistance with funeral expenses.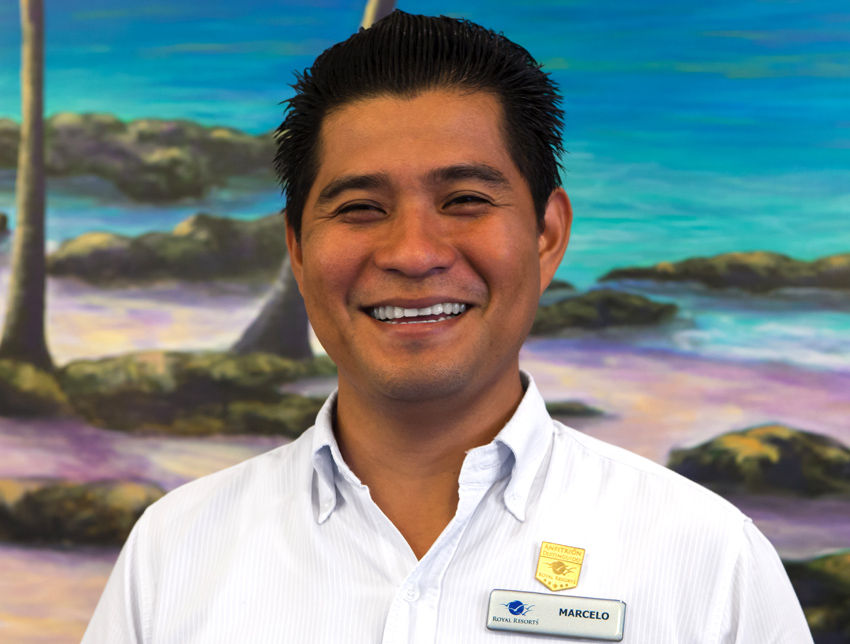 Building a future for children in need
The Royal Resorts Foundation awards scholarships to a class of children attending primary school in Colegio Mano Amiga in the Ciudad de la Alegria community center on the outskirts of Cancun.
Colegio Mano Amiga students come from poor families, often from single parent households, migrant families or vulnerable backgrounds overshadowed by domestic violence, addiction, crime or other problems that would make it impossible for the child to continue his/her studies if it were not for this support.
At Colegio Mano Amiga primary and secondary school, children study and play in a safe, happy environment. They have access to nutritious meals and medical treatment and an education that will give them hope and a better chance in life.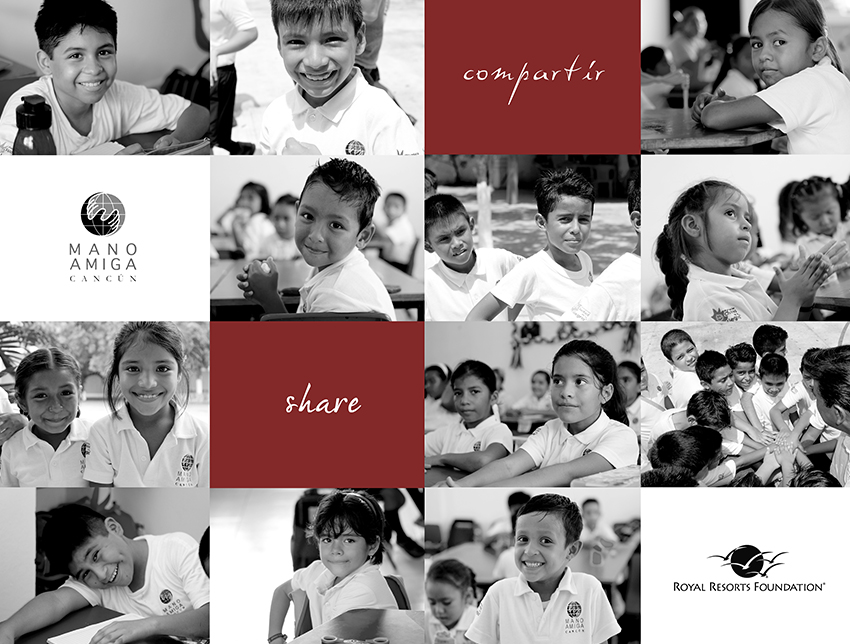 Saving the Mayan Jungle
In partnership with Amigos de Sian Ka'an, the Foundation is helping to fund initiatives to protect the Mayan Jungle and its precious wildlife and the fragile network of underground rivers that flows deep in the limestone beneath our feet.
Through the environmental services payment program coordinated by Amigos de Sian Ka'an, 22 landowners in Ejido Juarez and four in El Eden reserve in northern Quintana Roo are receiving grants in return for preserving the forest on their land for posterity instead of clearing it for agriculture or cattle ranching. To date, 400 hectares of forest have been saved using this system. Not only is the forest protected for the rare animals and birds that inhabit it, it represents the capture and storage of 30 percent of the carbon dioxide emissions generated by water production, water treatment plants and pumping in the Benito Juarez municipal district where Cancun is located.
Participating landowners recognize that it is crucial to protect the jungle and their enthusiasm has spread to eight other ejidos where landowners are also interested in joining the program.
El Eden reserve is of vital ecological importance in the area. Straddling a natural fault line, it is a zone of jungle and marshland peppered with cenotes, underground rivers and lagoons where water is plentiful year-round, attracting wildlife. It is home to forest and wetland birds, whitetail deer, peccary, spider monkey, jaguar, puma, ocelot and anteater, among others.
Endangered as a result of deforestation, uncontrolled growth, ranching and poaching, rare jaguars and pumas still inhabit the territory. El Eden Reserve has been identified as a breeding area for jaguars and it is thought that females seek it out as a refuge to give birth. Using camera traps attached to trees along jungle trails, biologists are studying the big cats' movements and those of the animals they prey upon such as deer, peccary, agouti and ocellated turkey.
The goal is to expand the environmental services program in the north and center of the state, linking larger areas of forest to the Sian Ka'an biosphere reserve and creating natural wildlife corridors for threatened species like the jaguar. Quintana Roo has the largest population of jaguars in Mexico, estimated at around 800 of the 4,000 that still roam the country. Protecting this emblem species, once held sacred by the Maya and the Aztecs, is a priority for Mexico's environmental ministry and conservationists.
The project to create a natural corridor in northern Quintana Roo was given an extra boost recently at the COP 13 biodiversity summit in Cancun in December.
The cenotes and underground rivers of the Yucatan Peninsula are breathtakingly beautiful and a hidden treasure for biologists, archaeologists and cave divers. The only source of fresh water in the area, they are also fragile and under threat from urban development and pollution. Amigos de Sian Ka'an is mapping the network of underground rivers, studying threats to the aquifer and cenotes and working with government authorities, universities and the private sector to develop a water management policy to protect them.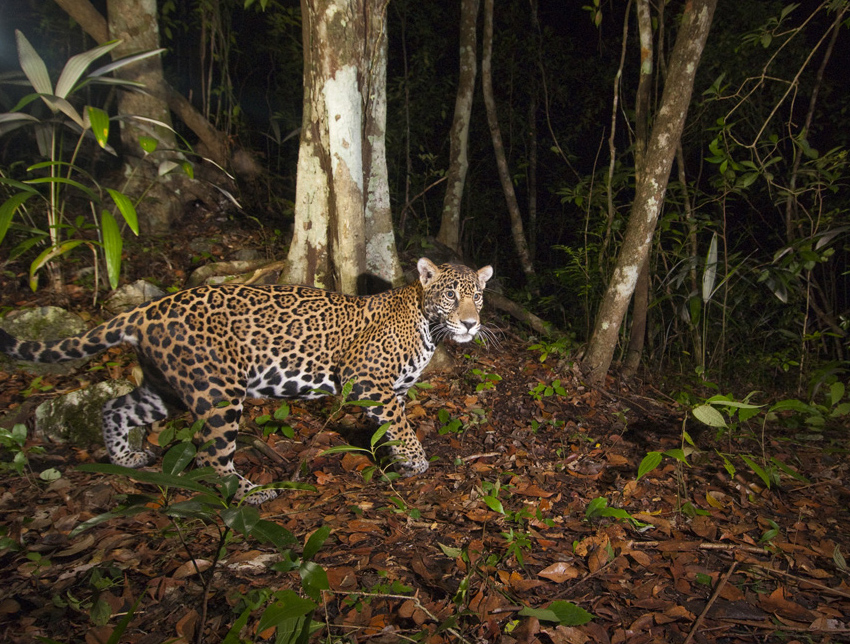 Gifts of Toys for Children in Need
In what has become a Christmas tradition at Royal Resorts, employees, members and guests collected toys to give a Kings Day surprise to children at La Escuelita de Sonia, a home school helping underprivileged children in Alfredo V Bonfil community on the outskirts of Cancun on January 6, 2017.
January 6, Dia de Los Reyes Magos is the day that Mexican children traditionally receive gifts and the Spreading Happiness Party at Sonia's School was a fun morning for all with toys, games, piñatas filled with candies, cake and other goodies.
In 2016, toys were distributed at a school in the village of Leona Vicario.
The Royal Resorts Foundation accepts donations of educational material, new toys and used clothing (children and adults) in good condition all year round.

Get-togethers with Cancun's Old Folk
On December 23, Royal Resorts Foundation volunteers helped at a Christmas lunch for 150 elderly parishioners at the Lourdes Church in Downtown Cancun. These monthly get-togethers during the year are a chance for pensioners living on their own to meet friends.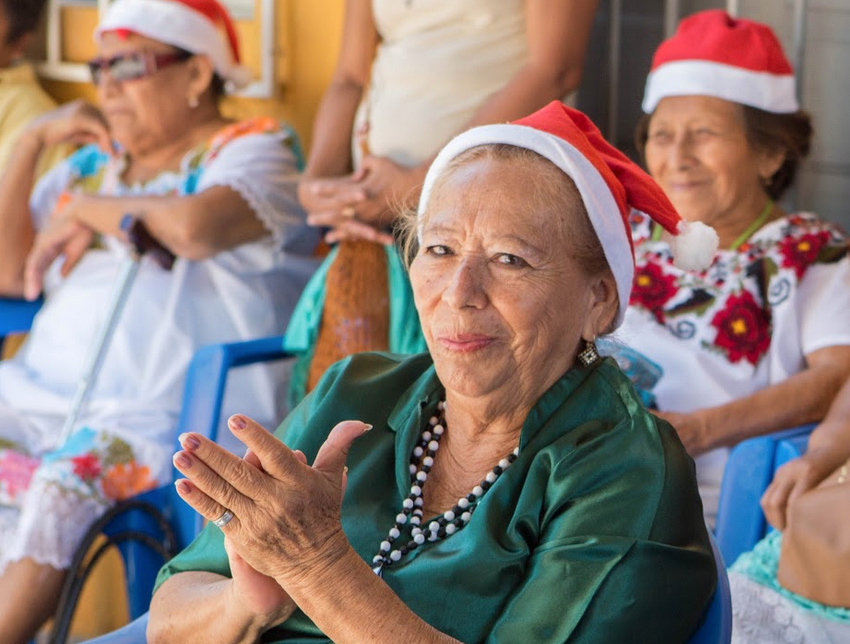 Get Involved
If you have a particular skill or would like to volunteer your time during your vacation to help those in need, give back to the community or do something to protect the planet the Royal Resorts Foundation would love to hear from you, write to: contact@royalresortsfoundation.org
For more information about the Foundation causes, fundraising events and special Spreading Happiness events organized during the year visit www.royalresortsfoundation.org Online donations are also accepted through the website.
We'll be posting more updates, photos and videos of events on our Facebook page.