Here's our latest update on the Royal Resorts 2018 turtle season. Royal Resorts security personnel, our turtle guardians, have already released the first 3,822 baby turtles of the season so that they can scuttle down the beach and disappear…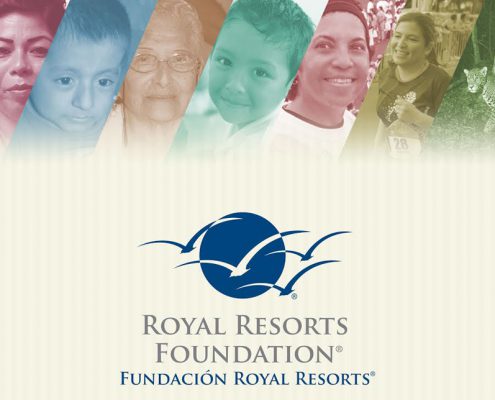 From scholarships for students, aid for the sick to conservation, Royal Resorts supports many community causes. Here's a look at some of the Royal Resorts Foundation's latest projects.
Here's the latest news from the Royal Resorts Foundation and the work it is able to do to transform lives and protect the planet as a result of the generous support of Royal Resorts members, guests and employees. Kitchen construction…
A big thank you goes out to all those who participated in the Third Royal Resorts Foundation Race in Cancun on February 18, 2018 as one of the 700 competitors or as donors, sponsors and volunteers. With your support, the Royal Resorts Foundation…
On a sunny Sunday morning in Cancun Hotel Zone on February 18, 2018, 700 people took part in the Third Royal Resorts Foundation Race in support of a good cause. Their goal was to raise money to build a kitchen at the Don Bosco Youth Center on the outskirts of Cancun.
There's still time to sign up for the Third Royal Resorts Foundation Race on Sunday, February 18 (week 7) in Cancun. Join us for a morning of exercise and fun in support of a worthy cause. All race proceeds will go to building and equipping…
A big thank you to all our members, guests and staff that supported the Royal Resorts Foundation 2017 Toy Drive for needy children and donated gifts over the Christmas holidays. You helped spread some happiness. With your generosity we were…
A heartfelt Happy New Year and gracias from the children receiving physiotherapy at the Cancun CRIT Rehabilitation Center thanks to the generous donations of members, guests and staff at Royal Resorts. The Royal Resorts Foundation is sponsoring…
Help the Royal Resorts Foundation spread some happiness this holiday season by participating in the Royal Resorts Toy Drive 2017. We are collecting gifts for disadvantaged children who attend the Huellas de Pan community kitchen in Cancun. With…
This post is also available in: Spanish