Merida, One of the World's Best Cities to Visit
Merida is one of our favorite spots in the Maya World and it seems that many Condé Nast Traveler readers agree as it was voted into fourth position in the World's Best Big Cities in the magazine's prestigious Readers' Choice awards 2022. Why not plan a visit and discover what makes it so special.

Stones that tell a Story
Merida was founded in 1542 by Spanish conquistador Francisco de Montejo amidst the ruins of a much earlier Maya city called T'ho. The Spaniards used carved stones from the abandoned ancient temples to build their Cathedral, churches, convents, government buildings and the casonas or houses that we still see today in the city's colonial heart, the second largest historic city center in Mexico.
Exploring the main square and the leafy squares along Calle 60 and the surrounding barrios or colonial neighborhoods, all with churches dating from the 16th and 17th centuries, brings you into contact with Merida's past.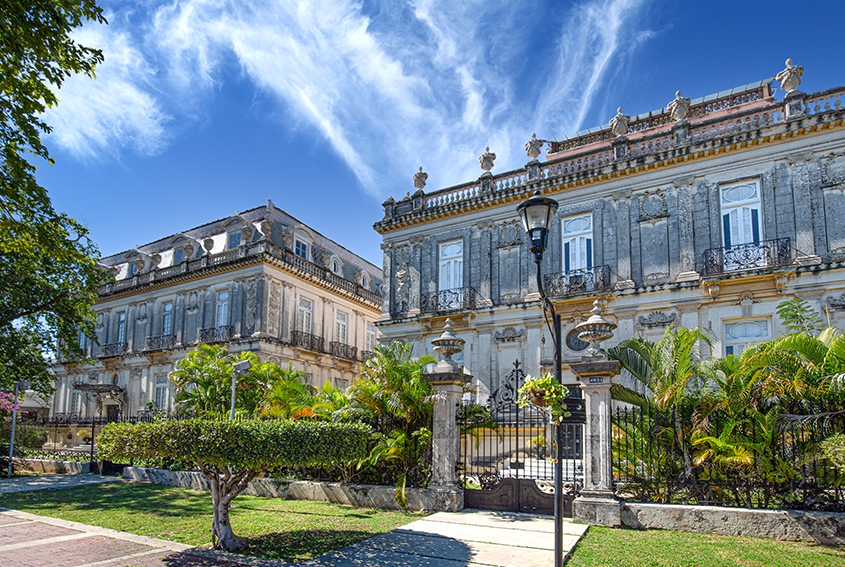 Head further north to Paseo de Montejo, the wide boulevard inspired by the Champs-Élysées, and you'll see another facet of city history, the grand old mansions of the families that prospered from the cultivation of henequen in the late 19th century and early years of the 20th century, when this native agave was known as green gold. The resilient fiber it yielded was used to make rope, twine and sacking and was in great demand in international markets. Merida became one of the world's most prosperous cities and its henequen barons commissioned architects to build opulent homes resembling chateaus and Parisian town houses and civic buildings such as the Peón Contreras Theater.

Rich Traditions
The complex flavors of Yucatecan cuisine, trova music, dance and dress – the embroidered terno or hipil dress for women worn with gold filigree jewelry and the guayabera shirt and Panama hat for men, Merida is rich in traditions, a mix of ancient Maya rituals and beliefs and customs introduced by Spanish settlers during the Colonial period. You may see the representations of regional dances or scenes from history and participate in events such as Hanal Pixan or Dia de Muertos during the year, processions and masses. Yet, local customs also run to the importance of sipping a good cup of coffee with friends in an open-air café under the trees, listening to a local trio sing romantic ballads, giving fragrant flowers and standing in line for tacos de cochinita pibil, refreshing handmade ice cream made from tropical fruit and the sweet local favorite marquesitas. Discover them all during a visit to the city.

Museums & Galleries
From polychrome ceramics, jade and gold figurines unearthed at archaeological sites in the Yucatan and guided tours of mansions on Paseo de Montejo to sculptures and paintings by local artists, be sure to visit Merida's museums. The Anthropology Museum in Palacio Cantón on Paseo de Montejo, the multimedia Museum of the Maya World on Prolongacion Montejo and the City Museum on Calle 56 x 65 and 65-A are musts. House that are museums include Casa de Montejo, the home of Merida's founding family on the main square and Casa Museo Montes Molina, Montejo 495 and El Minaret on Paseo de Montejo. Visit Government House on the main square to see the murals depicting the Maya creation story and the history of the Yucatan by Fernando Castro Pacheco and the MACAY Contemporary Art Museum. Art galleries showcasing the works of local painters and sculptors can be found on Calle 60, Paseo de Montejo and in other city neighborhoods.

Shopping time!
Pick up a locally made hammock, Panama hat, a guayabera or cool embroidered cotton blouse or dress in the bustling craft markets and shops. A pair of leather or woven henequen sandals or a trendy bag, a clay figure of an ancient warrior or a quirky scene of village life complete with a Maya hut, a well, mother and child and a mini hammock, bowls, mortars, birds and jaguars carved from tropical hardwoods are some of the crafts made in the Yucatan. Stock up on honey and chili sauce and if you like Yucatecan cuisine, buy some recados or spice mixes used in regional recipes.
However, there's much more to the Merida shopping scene. Craft shops and galleries stock a colorful selection of folk art from all over Mexico. You'll find textiles from Chiapas, Oaxaca and Hidalgo, a variety of ceramics from Jalisco, Puebla and Michoacan, silver jewelry, copper, woodcarvings and much more. Pick up a huichol beaded figurine or a colorful alebrije or fantastical wooden figure, a wall hanging or even embroidered cushions as a souvenir of your Mexico visit. If you are looking for Mexican design ideas for your home, there are a number of galleries showcasing the work of Merida designers, impressive trees of life, Talavera urns and figurines and a variety of textiles that would make eye catching features. There is even a local factory making ceramic tiles in traditional designs like those seen in historic mansions and hacienda great houses or even bespoke artistic elements for the client.
Merida also has its fair share of air-conditioned malls to the north of Paseo de Montejo for Mexican and international brands.

Merida Nights
A varied dining scene with Yucatecan, Mexican, Maya and Lebanese cuisine and seafood sharing the stage with Italian, Spanish, Japanese, steak houses and international flavors will have you choosing a different restaurant every night. A good place to start is Santa Lucia square where you can dine al fresco on Mexican and Italian dishes in the shadow of a 17th-century church or in a restaurant that evokes the ambiance of a hacienda with touches of stone, tropical hardwood bar and contemporary chic.
For after-dinner entertainment there are traditional cantinas, open-air bars in the squares and chic courtyards or rooftop terraces with live salsa and jazz music. Be sure to check out the free concerts and dance performances in the city. There's something on every night of the week. Highlights include the Vaquería, a folk dance show on Monday in front of City Hall, a Trova concert in Santa Lucía on Thursday, video mapping in the main square on Wednesday and Friday, the reenactment of the Pok ta Pok or Maya ball game in the main square and Noche Mexicana on Saturday in El Remate on Paseo de Montejo.

Exploring the Area
Once you have spent several days in Merida, you'll learn that it is also the perfect base for exploring the area. To the east lie the twin colonial towns of Valladolid and Izamal, the ancient Maya cities of Chichén Itzá and Ek Balam, old henequen haciendas, a wealth of sinkholes or cenotes and caves and Ría Lagartos, the Gulf coast Biosphere Reserve that is home to thousands of flamingos. To the north are the archaeological site of Dzibilchaltun, one of the oldest in the area, and the port of Progreso, gateway to the Gulf coast and a succession of fishing villages and beachfront homes. Heading south brings you to the Maya masterpiece of Uxmal and the chain of Puuc Route sites, Loltun Caves, Maya villages and the Convent Route. To the west is Celestún, another biosphere reserve, also a home to flamingos, crocodiles, jaguars and other species.

Book your Merida tour with Thomas More Travel